Forest Imp
Depth
Strength
Rarity
Dexterity
Base Level
Vitality
HP
Magic
Experience
Attack
Model
Defense
Scale
Bravery
Forest Imps are imp type monsters found in Fate.
Description
Edit
Forest Imps are the first type of imp encounterd in Fate, found around level 3.  They are easy to defeat, if you can do 20 damage easliy, but they are pretty fast.  They have a lime-green skin color, with orange hair. They often flee when their health becomes low.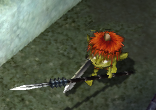 Ad blocker interference detected!
Wikia is a free-to-use site that makes money from advertising. We have a modified experience for viewers using ad blockers

Wikia is not accessible if you've made further modifications. Remove the custom ad blocker rule(s) and the page will load as expected.